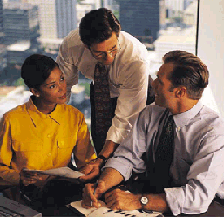 Lackawanna Insurance Group is a Pennsylvania Workers' Compensation Specialist – writing business exclusively in the State of Pennsylvania for over 65 years. Currently the 6th largest writer of workers' compensation in the State, Lackawanna Insurance Group is Rated A (Excellent) by A.M. Best.
PA WORKERS' COMPENSATION SPECIALISTS Lackawanna Insurance Group's continued growth and success is a direct result of our staff and our network of independent agents.
Because we focus exclusively on workers' compensation insurance, our staff is uniquely qualified to offer the necessary expertise and service to our agents and insureds. The Lackawanna Insurance Group staff is knowledgeable and dedicated to providing the best service to our agents and their policyholders.
Our network of Independent Insurance Agents is carefully selected. Each of our appointed Agents enjoys an excellent reputation in the industry and shares in our Company's corporate philosophy and approach to doing business.
PA Workers Comp Insurance Specialists