Answers To Your FAQs
We have compiled the answers to some of the most frequently asked questions.  If you don't see an answer to your question, please don't hesitate to Contact Us.
How Do I File a Claim?
Claims can be filed with your Insurance Agency or they can be filed directly online using our convenient Online First Report of Injury form.  If you have any questions, please contact us or your agent for help.
What are Supplemental Underwriting Forms and Why Do I Need One?
All applicants initially complete a "basic" insurance application.  However, not all applicants are alike.  Additional information may be required based on your industry, the type of work you do, where you perform your work, etc.    Supplemental Underwriting Forms are used to gather this information that is specific to your insurance application or to clarify your insurance policy request.
Where Do I Get These Supplemental Underwriting Forms?
There are a variety of supplemental forms, based on the specific information that we need to gather.  All of these forms are available online.  You may complete the form online or  download a PDF to be completed and then fax, email or mail.  Click to view a list of Supplemental Underwriting Forms.
How Do I Request Online Safety Training Videos ?
Our extensive selection of workplace safety training videos are available exclusively to our current policyholders to support the safety education and awareness training of their employees.  Use our online form to Request Online Safety Training Videos.
How Do I Request Loss Run Reports?
Loss Runs can be requested through our Agent Resource Center. Just log in with your Agency ID and password to request account loss runs.  The reports will automatically be emailed to the email address you entered. You will receive the reports within 1 business day.
How Do I Find an Agent In My Area?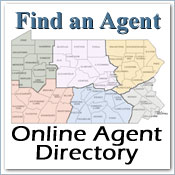 Lackawanna Insurance Group deals exclusively through a network of highly professional and respected agencies located throughout the State of Pennsylvania.  Use our convenient Online Insurance Agent Directory to locate a Workers Compensation Agent near you.
How Do I Become an Agent?
We welcome all established, professional Independent Pennsylvania Insurance Agents/Agencies to apply.  Just complete our Online Agent Application and a representative will be in touch with you.  Learn more about Becoming an Agent.