Claims Management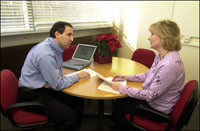 Lackawanna Insurance Group has a professional, aggressive and comprehensive claims management approach. Each policyholder is assigned to a specific team of highly qualified professionals consisting of claims professionals and in-house legal counsel. No work-related injury is handled in a routine manner.
Our experienced staff has extensive knowledge of the Pennsylvania Workers' Compensation Act. Each claims representative manages a limited number of claims to insure proactive handling of every claim in the most cost efficient manner.
Our approach includes:
Mandatory 24-Hour Contact – A member of our claims staff will contact the employer, the injured worker and medical provider upon receipt of the notice of first report.
Claim Investigation – Our claims professionals investigate every reported injury to assess compensability and minimize ongoing exposure utilizing the services of outside experts when necessary.
Ease of Submitting First Report Forms – Reports can be conveniently submitted utilizing our company website. Fax or telephone reporting is available upon request and is based on premium level.
Reserving Procedures – Each claim is reserved based on facts obtained during our thorough investigative process.
Transitional Return to Work – The claims representatives work diligently with the employers to expedite the workers' early return to work in a modified job capacity.
Medical Cost Reductions – All medical bills are repriced according to the PA workers' compensation medical fee schedule to assure maximum cost savings. Assistance is given in the selection of medical provider panels.
Litigation and Claims Settlement – Our panel of qualified litigation attorneys are used when the facts of the case warrant to bring the claim to a quick, satisfactory and financially beneficial resolution.
Subrogation – Our claims staff vigorously pursues subrogation in every suitable claim.
Fraud – Claims are investigated for fraud and all fraudulent claims are reported to the Pennsylvania Office of Attorney General.