Lackawanna Insurance Group believes the majority of all workplace accidents are avoidable and preventable.  The company expends a significant amount of resources on preventing workplace injuries and fostering a safer work environment for our customers.
We believe that establishing a Loss Prevention Program is more than just safety awareness,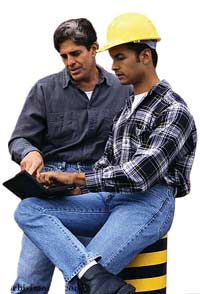 and it's more than a document in a binder on the shelf.  It is an integral part of a company's infrastructure whereby enhanced safety measures and injury reduction are part of the corporate ideals and culture.  People cause accidents; people can prevent them.  Their attitudes toward safety inspire their behavior.  Consequently, employees must be educated, trained and inspired to work and act in a safe manner.
An effective Loss Prevention Program with an inspired and proactive safety culture will ultimately yield significant cost savings through lower premiums and a more efficient and productive workforce.
At Lackawanna Insurance Group, our Loss Prevention Consultants are strategically located throughout the State to better serve our customers.  Our team of consultants will perform a comprehensive risk analysis of your operations and will work with you to create a safety culture whereby employees consciously work and behave in a safe manner.
Key steps in our approach include:
Loss Trending – many companies do a fine job reporting their work-related claims, but they do a poor job of trending their injury sources.  Our Loss Prevention Consultants will assist in analyzing your work-related injuries in an effort to isolate specific areas within the organization that may require immediate or increased attention.

Education and Awareness Training – Creating an environment where employees are properly trained and inspired to work in a safe manner is the essence of developing a safety culture.  Safety awareness training should be mandatory for all new employees, and seasoned employees should be periodically retrained in order to reinforce the importance of workplace safety.  Our Loss Prevention Consultants will assist you in providing this training.
Accountability Programs – While all employees may not have the authority or ability to address a problem, all employees should be encouraged to identify and report a problem.  Everyone within an organization is responsible for safety and must be held accountable for their failure to act responsibly. Our Loss Prevention Consultants will assist in formulating an effective program that can be used, not only for safety, but other human resource accountability programs.

Equipment and Preventative Maintenance Programs – OSHA standards represent the minimum safety standards to which a company must comply.  Our Loss Prevention Consultants will determine if you meet the OSHA standards as well as assist in developing effective preventative maintenance programs to extend the useful life of your equipment

Lackawanna Insurance Group Loss Control Consultants are certified Pennsylvania Accident and Illness Prevention Service Providers and can provide the require training for policyholders with state certified safety committees.

Online Safety Training
Lackawanna Insurance Group offers FREE access to Online Safety Training Videos through Training Network to all of our Lackawanna Insurance Policyholders.